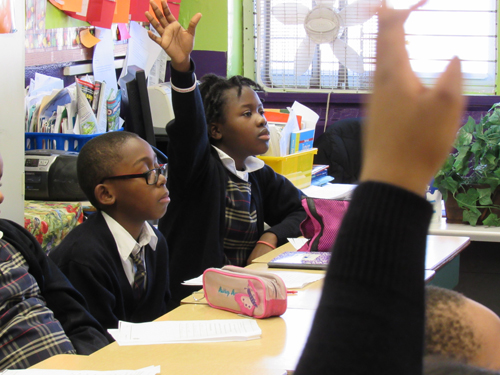 Subjects Overview
The Linden Seventh-day Adventist School prides itself as a school that encourages the students to B.S.M.A.R.T on a daily basis. The curriculum is embedded in the word B.S.M.A.R.T to teach the students that the subjects that are taught at the school will actually develop their cognitive ability to be smart students. The subjects for the acronym B.S.M.A.R.T are Bible, Science, Social Studies, Math, Arts (Music, Choir, Gym and Drama), Reading Comprehension, and Technology.
The classes at Linden Seventh-day Adventist School are set up in such a way that allows every student to have an excellent learning experience through interaction with fellow students, teachers, and the use of smart boards in every classroom to enhance teaching and learning.
The goal of our curriculum is to teach students to think and to develop within them a lifelong love of learning. The subjects at the Linden SDA School is both rigorous and engaging. Our classes are taught by teachers who are zealous and committed to helping each student reach his or her full potential.
The Linden SDA School shares a commitment to teaching students to think critically, to organize and analyze information, to proficiently with confidence sit and write the ELA and Math NY state test, and to listen and follow instructions to help them feel safe in the school.
The Linden SDA School is a Christian Seventh-day Adventist School that acknowledges the presence of God on a daily basis in the school. The teachers integrate faith and learning in every subject for students to make the connection that there is a God, who is the creator of all living things. Students are required to participate in all school activities related to academics.
Award Ceremony
The Linden SDA School acknowledges every marking period of the academic achievements of our students. The students with a GPA 3.50 – 3.64 are acknowledged as honor students, a GPA 3.65 – 3.79 High Honor and 3.80 – 4.00 Highest Honor. The requirement to be on the principals list is a GPA of 4.00.
Curriculum/Subjects
Bible
English Language Arts
Advance Math
Math
Science
Social Studies
Spanish
French
Computer
Music
Gym
Choir
Drama
Arts and Craft